On a"ai ta ku ba" project
Thoshihiro Itoh/Chair, executive committee
These days, the earth is growing smaller rapidly.
Information, substances, human beings, and even infectious disease are all rushing around the globe and civilization is moving far faster than we can imagine.
The word'evolution'might have a positive connotation, but what is happening on the earth is not all good.
Problems like wars,terrorism,infectious,outbreaks,environmental problems, food shortage and energy issues are happening on the global level and our societies are exposed to impending crises.

The "A i ta ku ba" project we are promoting here is an attempt to revive the true, and natural state of human mind.
The project consists of three major sections, photo exhibition, paper-craft displays and music, and its aim is to have a gathering where there are no barriers of borders, races, religions or languages, and where any person can open their minds.

Mr. Hitosh Yagi, our photographer, shows us the weight of the history with the pictures of immigrants.
Those people have been the bridge between Japan and Brazil for the last 100 years ever since immigration started between these two countries.
I was so impressed when I saw his exhibition inspired by Ms. Chiyoe Oosaki's Haiku poem, "A i ta ku ba, wa ta ri te ko i yo, ni ji no ha shi (If you wish to see me, come crossing the rainbow bridge)".
I am convinced that his photos will become a page in history.
He has photographed not only people who have been making the history but also the 3rd and 4th generations of Japanese-Brazilians, who will become responsible members of society in the future and photographs of nature, which is the inseparable part of daily life of human beings.

Over 30, 000 children in Japan and Brazil are making paper-craft flower-shaped pinwheels which have been designed by Mr. Toshimichi Hiroi.
They are colored like a rainbow, thus creating a rainbow bridge.
When a thousand winds pass through those pinwheels, the music created by them will surely lead our hearts toward the world of love and peace.

Another major work of creating the theme song for "A i ta ku ba" project is under way, a leading Japanese musician has been working on the relic to weave minds of all the people into one. Like "Imagine" by John Lennon and Yoko Ono, which has been loved as an antiwar, peace-promoting song for decades, we hope that our theme song will become a song to help people understand that human beings are not separated as individuals but more like a whole big family.
We can live in the care, acknowledgement and forgiveness for each other shared at the deep level of our hearts.

This project, "A i ta ku ba", with 3-events of photo exhibition, pinwheel displays, and concert, will be held in Tokyo,Yokohama, and Kobe from April, 2008, and later will be held in Rolandia and Curitiba in Brazil.
We hope to host more events in many more cities all over the world.

The "A i ta ku ba" project has already been designated as a project in Japan-Brazil interchange year by the Ministry of Foreign Affairs but is still in an infant state.
With your support and cooperation, we believe it has a potential to become a major social phenomenon.
I sincerely hope that a message of love and peace from a photographer in Sagamihara, Japan will reach out globally.
Support across individuals, organizations, regions and nations will be appreciated far more than words can describe.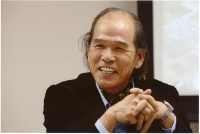 (c)Katsuhiro Yamaguchi
Thoshihiro Itoh

・Exective Director of Kitasato Research Center for Environmenal Science

Dec,1941 山梨県に生まれる
May,1964 山梨大学工学部発酵生産学科卒業
Apr,1987 北里大学教授
Jul,2004 北里大学一般教育部長・副学長
Apr,2007 (財)北里環境科学センター理事長
Apr,2007 日本油化学会会長
Oct,2007 中国瀋陽薬科大学客員教授

主な著書等
油化学便覧 (編・著) 丸善
油化学事典 (編・著) 丸善
生命科学のための基礎化学 無機物理化学編(共訳)丸善
生命科学のための基礎化学 有機・生化学編(共訳)丸善
スタディスキルズ ー 卒研・卒論から博士論文まで, 研究生活サバイバルガイド(共訳)丸善